We authors would be in a world of hurt without book bloggers. Think about it for a second – someone who loves books takes time out of their reading schedule to actually post reviews. That's quite an amazing feat given that most book bloggers are literally swamped with requests for reviews. As the marketing dollar from publishers continues to be clawed back, authors are increasingly looking for ways to get the word out about their books and bloggers are at the forefront because they're generally linked with other book bloggers and bibliophiles, so the social networking component is absolutely paramount if we want people to discover our books. Yes, there are some authors who go bat shit crazy every year and with everything from web-based hissy-fits to  …. well if you're a blogger and you're reading this, you know who and what I'm talking about.
There are a lot of quality blogs out there. There are a few questionable ones that are little more than review mills. A note to bloggers – we authors can tell if you haven't read our books by the quality of the review – even the bad ones. If a review sounds mechanical – if the reviewers personality isn't inserted into the review, it's a good bet the reviewer didn't read the book. (I could be wrong, but … I don't know … you can just tell, okay? That's all.) On top of the quality of reviews, I also look for the general coolness of the blog. How user friendly is it? Does it jam up my browser with a crap pile of plug-ins running in the background. Does it have annoying music playing while the page loads. Does it take FOREVER for the page to load. I think a good quality book blog needs to reflect the quality of the reviews and think about it for a second: if someone loses patience waiting for the page to load because of a flashy-dashy stuff running in the background of the page, a reader is going to lose patience.
At any rate,  here's my top book blogs for 2011 – in no particular order because I'm all about inclusiveness and stuff like that. 🙂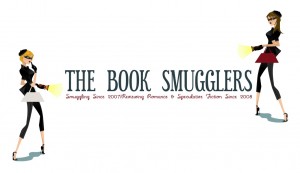 The Book Smugglers – LA and Cambridge – talk about bridging the distance between two friends with a hell of a lot of really solid reviews. Thea and Ana are funny, they are really very good writers, actually and their reviews are absolutely fantastic. Their love of books pours out on the pages of their blog (which has been going now since 2007) and not only are the reviews great – there's interviews and TONS of pictures of things like  … BOOK FAIRS! CONS! You name it, it's all there. Check them out because for this book lover, The Book Smugglers are a daily read.
Genre Reviews – Anna (who is from Winterpeg) Sarah and Shannon comprise the book reviewers on this very entertaining blog that proves content is far more important than flashy, glitzy crap that will bung up your browser faster than you can say what the @$)#??? This blog does a great job of not only reviewing books fairly and in an entertaining way, but there's also a lot of other cool stuff to warm your inner geek. Anna is, in my humble opinion, probably the geekiest blogger I read and with a new baby on her hands, I don't know how she (or other bloggers with little ones) can find the time to read, manage the blog and interact on Twitter. I don't know what this blog's following is and frankly, I don't care, because if your book passes muster with these people it doesn't entirely suck. Period. Read them every day if you can … I do!
I Smell Sheep is an odd name for a book blog, don't you think? This is another minimalist blog (THANK YOU!!!) with very readable reviews and a cadre of reviewers who actually *get* it when it comes to keeping a review short, sweet and to the point. I've been reviewed along with pretty much the current bunch of authors over at Dark Central Station.  They have a growing following, I think every reviewer is plugged into every social networking too known to man. Check them out!
Smexy Books – a daily freaking read for me. Why? Because these people are INSANE about romance and don't even get me started on erotica. Wow! Okay, mea-culpa time. I read their reviews (and follow them on Twitter) because I don't exactly write the best romance on planet earth and … well, ya gotta have some romance in urban fantasy. You just have to. They're plugged in on Goodreads, they don't have an annoying website that takes twelve years to load and the reviews are good. I mean, real good. Not only are they looking for quality writing and believable plots, they're searching for believable romance and HOT, I repeat, HOT SEX! Check them out – you won't be disappointed.