I'm a Calgarian, that's why. (Actually a displaced Calgarian who lives in Saskatoon but in actual fact, a displaced Ontarian – truth be told.)
I was born in Ontario and spent my childhood in Sudbury. My family moved out west in 1980 – we were following the great migration of eastern Canadians who headed out west because Calgary in 1980 was a boom town. It was a city of about 650,000 all those 32 years ago. It's now grown to over a million people and I remember laying eyes on the skyline for the first time in my life at age 13 and it was nothing but cranes as far as the eye could see. I went to Junior High at Bob Edwards Jr. High School and then I went to James Fowler High School and graduated in 1985. After that, I joined the Canadian Forces because the boom was over and the National Energy Program basically destroyed the economy. There weren't any jobs for someone fresh out of high school back then so the military made sense.
And so I was based in Calgary from 1986-1992. My son Shane (now 22) was born there. Everything about my formative years happened there. It's a wonderful, vibrant and amazing city that I love with all my heart. So why am I in Saskatoon? Well, the better half is from Saskatchewan so that's why we're here.
Calgary appears in my novels SHADE FRIGHT, FUNERAL PALLOR and my debut Young Adult thriller, POLTERGEEKS
This is Calgary circa 1980:
And this is Calgary in 2012: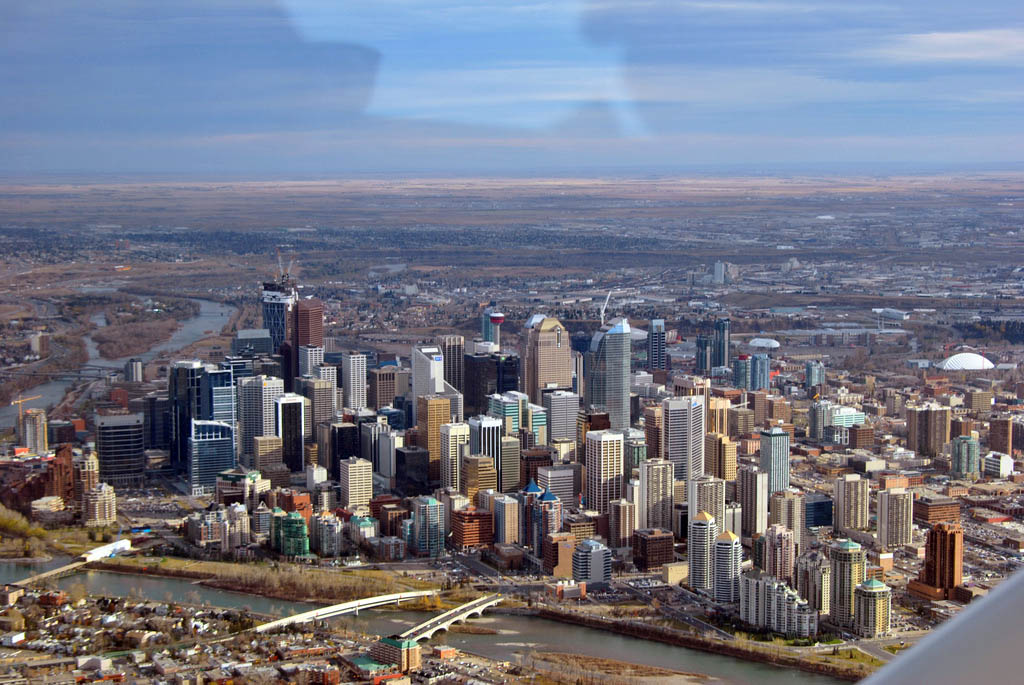 It's kind of grown, don't you agree? In my books I've brought these statues to life.
I've made Nose Hill Park the magical ground zero in the city. (A dwarf troll mage named D.T. lives underneath this boulder, by the way.)
There's a HUGE poltergeist attack in this high school. (The school name is different in my book POLTERGEEKS)

I've also destroyed the Calgary Rugby Stadium, created the zombie apocalypse (my agent has to sell this one) and of course caused something utterly terrible to happen at the Calgary weir in the sequel to POLTERGEEKS. It's called STUDENT BODIES.
No, I don't hate the city – but I do write urban fantasy. Most urban fantasy (like 99.99999% of it) takes place outside Canada. I'm an urban fantasy author and I have this crazy idea that people in Canada might like to read fantasy that takes place here and those from outside of Canada would probably want to read it too.
I'll probably be taking a break from writing about Calgary for a while, though, but it's still here (I'm pointing to my noggin) in my thoughts and in my memories. Calgary Alberta, Canada is my hometown. I love the city though – always will. It's where I'm from. It's where my heart is.
Even if I'm destroying it piece by piece. 🙂