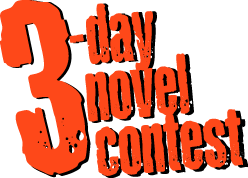 There are less than three weeks left until the 3 Day Novel Contest.
That's right, you heard me … the 3 DAY NOVEL CONTEST. Anyone can do NaNoWriMo, but have you got the kahones to write an entire book in 3 … FREAKING … DAYS?
What is it? Just an annual writing event held over the Labour Day weekend each year, that's all. From their website:
Can you produce a masterwork of fiction in three short days? 
The 3-Day Novel Contest is your chance to find out. For more than 30 years, hundreds of writers step up to the challenge each Labour Day weekend, fuelled by nothing but adrenaline and the desire for spontaneous literary nirvana. It's a thrill, a grind, a 72-hour kick in the pants and an awesome creative experience. How many crazed plot lines, coffee-stained pages, pangs of doubt and moments of genius will next year's contest bring forth? And what will you think up under pressure?
Prizes
1st Prize: Publication*
2nd Prize: $500
3rd Prize: $100
*The first prize winner will be offered a publishing contract by Anvil Press after the winner announcement in the January following the contest. Once the contract is signed, the winning novel will be edited, published and released by the next year's contest.
So yeah, it's pretty intense. I took part in the event, now in its 3rd decade back in 2007. Why? Because I'm a little bit nuts, but mostly to see if I could do it. And guess what … I did it! I survived. And the 3 Day Novel Contest yielded me a godawful messy manuscript called SHADE FRIGHT which went on to become my 1st published work ever, ever ever ever! That led to a second book … then a third … then a fourth and now a fifth book which hits bookstores in the UK on September 5th and in the US/Canada on September 17th.
If I hadn't done the 3 Day Novel Contest it wouldn't have given me the confidence to take some risks with my writing. I'd have never come as far as I have in the six years since that caffeine-fueled weekend.
So … what are you waiting for, punk? Just DOOOOOO IT!!