Oh yes, it's annual list time again! I love doing my annual books 'o the year blog post because I get to celebrate some amazing authors who, quite frankly, I wish I could write even 1/10 as good as. So here we go, my top two picks in no particular order.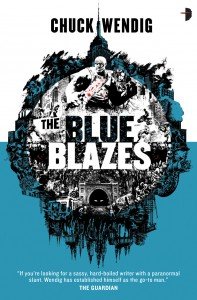 THE BLUE BLAZES by Chuck Wendig
Mookie Pearl. Remember that name because this guy is a big time bad ass of epic proportions. A walking, talking side of beef who works as a mob enforcer  and there's a lot of seriously bad stuff happening with his daughter who might or might not be plotting a coup to take over all the gangs in the underworld. Throw in some very nasty preternatural creepiness mixed in with the seedy underbelly of the city and a drug that lets you see things the way they really are, well, you've got some game changing dark fiction.
I loved this book and raved about it to anyone who would listen. Wendig's style of writing is gritty as hell (ptooey! sand in my teeth) and the pacing makes this book unputdownable. Mookie is badder than Sandman Slim in his first adventure and you won't want to miss the surprise twists and turns as Wendig hits it out of the ball park. Go get it!!
THE BIG REAP by Chris F. Holm
Sam Thornton. Soul collector. He's a little bit doomed and a whole lotta damned in this third installment. He's tough as nails …  near indestructible depending on whose body he's occupying at the time. This is an exceptional urban fantasy series that is unlike anything you'll find on bookstore shelves. Poor Sam has been tasked with finding and collecting some MOST EVIL BAD NOT VERY NICE NASTY ASS former collectors who'd somehow managed to break their bonds.
What makes this book the very best of the series is the fact that we truly get to see the cost of making a deal with the Devil to saved a loved one. And Holm doesn't hold back because there is no cosmic pay it forward at work here – Sam is eternally screwed for what he did to save his wife – there's nothing he can do about it. Blistering pacing woven together seamlessly with a back story that tears the heart, THE BIG REAP is everything that I love about Urban Fantasy & so much more. Go get it. Read it and know that you've got a truly special series that I hope doesn't end any time soon.